Lillian Leitzel (Leopoldina Alitza Pelikan) was born in Breslau, Germany on January 2, 1892 to a circus family. Her father was Hungarian and her mother Czech. In Leitzel's early years she live with her grandparents and study to become a concert pianist. While visiting her mother in England, who was performing trapeze with an act known as the "Leamy Ladies", Lillian convinced her mom to let her join the troupe.
In 1911, the Leamy Ladies came to the United States to work with the Barnum and Bailey Circus. The act was not well received in the U.S. and the troupe, (which consisted of Lillian, her mother and her aunts) decided to break up and return to Europe, however Lillian stayed in America.
Leitzel found work performing her trapeze act on the vaudeville circuit. While performing in South Bend, Indiana, a representative of the Ringling Bros. Circus noticed her and offered her a contract with the show. Lillian soon became a headliner with the circus. The circus used her dainty image on posters, advertising her as "The World's Most Marvelous Lady Gymnast" and "The Aerial Wonder". When the Ringling circus combined with Barnum and Bailey in 1919, Leitzel remained the star of The Ringling Brothers and Barnum & Bailey Circus.
Lillian act was on the high trapeze and roman rings, but she is best known for the "one arm Flanges". She would dangle from a rope by one hand, and propel her body upwards with tremendous strength as the ringmaster and audience counted her revolutions, (often over one hundred).
Leitzel's first marriage was to a circus prop hand, her second was to side show manager Clyde Ingalls both ending in divorce. In 1928 Leitzel met and married one the most famous trapeze of the time Alfredo Codona.
Lillian and Alfredo were in great demand during RBBB off season, the couple would perform with circus in Europe, Mexico and south America. During one of these tours Alfredo was performing in Berlin Germany and Leitzel in Copenhagen, Denmark. On Friday, February 13, 1931 a swivel on Leitzel's rigging failed sending Lillian plummeting to the ground. Alfredo rushed from Berlin to be at her side. Two days later February 15, 1931 at age 39, Lillian Leitzel died from her injuries.
Leitzel was interred at the Inglewood Park Cemetery, Inglewood, California. Alfredo erected a memorial to his wife which was titled "The Spirit of Flight" The monument stands nearly 12 feet high, it depicts Codona, with angels' wings embracing Lillian. At the statue's base are Roman rings with one broken representing the failed rigging that took her life.
Frank McClosky had been superintendent of Alfredo Codona's circus in Mexico and was assisting Leitzel the night she fell, McClosky went on to manage the Ringling Brothers and Barnum & Bailey Circus and later formed and operated the Acme Circus Operating Corp., which owned Clyde Beatty Cole Bros Circus, King Bros. Circus and Sells and Gray Circus.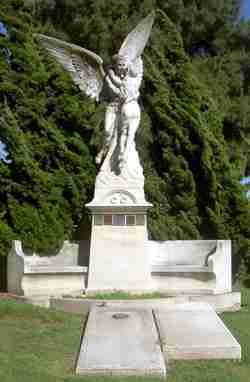 Buried at
Inglewood Park Cemetery
Los Angeles, CA